The I-575 Corridor offers an amazing assortment of wonderful places to explore various cuisines. You can find everything from great soul food to mouthwatering steaks and everything in between. Whether you are looking for something casual or want to pull out a nice dress or sports coat, there is something for everyone. "Taste of The Corridor" help you find a few featured locations and why you should consider checking them out for yourself.
It is dinner THYME
Fish Thyme in Acworth (Fried Shrimp)
3979 S Main St #5657, Acworth, GA 30101
As a Florida native, I grew up loving seafood. So, it should come as no surprise that finding a place to enjoy good seafood means a lot to me. That is what I found when I visited Fish Thyme in Acworth. One way to know you have a great seafood dish is to have your food come out and realize you do not need any additional seasoning or toppings to make it shine. Just dive in and do not slow down until you are done. It is that good.
One of the things that stood out to me during my visit was being seated at the large table on their outdoor patio. It has a large fire feature in the middle that adds to the feeling of sitting out by a cozy fire while enjoying time with friends.
Taking the DIVE
DIVE – Southern Coastal Kitchen (Crab legs) 135 Reinhardt College Pkwy Suite 1, Canton, GA 30114
In keeping with my love of seafood, DIVE southern style cooking located in Canton offers a cozy decor that makes me feel like I'm back in Florida about to get some great food. They don't disappoint. If you go by on Wednesday or Saturday, you can enjoy their All-You-Can-Eat crab legs. I ordered my crab legs with their fried Brussel sprouts, and they were delicious. The weather was good, which allowed my wife and I to sit out on the patio to enjoy a light breeze while enjoying several rounds of steaming hot crab legs. Be sure to plan a reservation or walk in, like we did.
The owner, Kip, was out checking on tables to make sure we had what we needed and that is the kind of attention you like to receive when you are enjoying a nice meal.
Cheers to You
Keegan's Irish Pub (Salmon)
1085 Buckhead Crossing, Suite 140
Woodstock, GA 30189
I have had salmon in many restaurants over the years, but I can't remember someone asking what temperature I would like my salmon cooked to. I cannot remember my answer to the question, but I must have guessed right since it was great. A part of the surprise came from the fact that I ordered it as take-out and it was still piping hot when I opened the box at home.
I ordered Steak Frites as well and it amazed me too. It amazes me that this gem has escaped me for so long. It is located just off Towne Lake Parkway in Woodstock. It's a welcoming environment. I enjoyed seeing several patrons being greeted by name as they entered the place which reminded me of the them song from the show Cheers which says "wouldn't you like to find a place where everybody knows your name?"
Check it out for yourself and let them know you read about them in Taste of 575.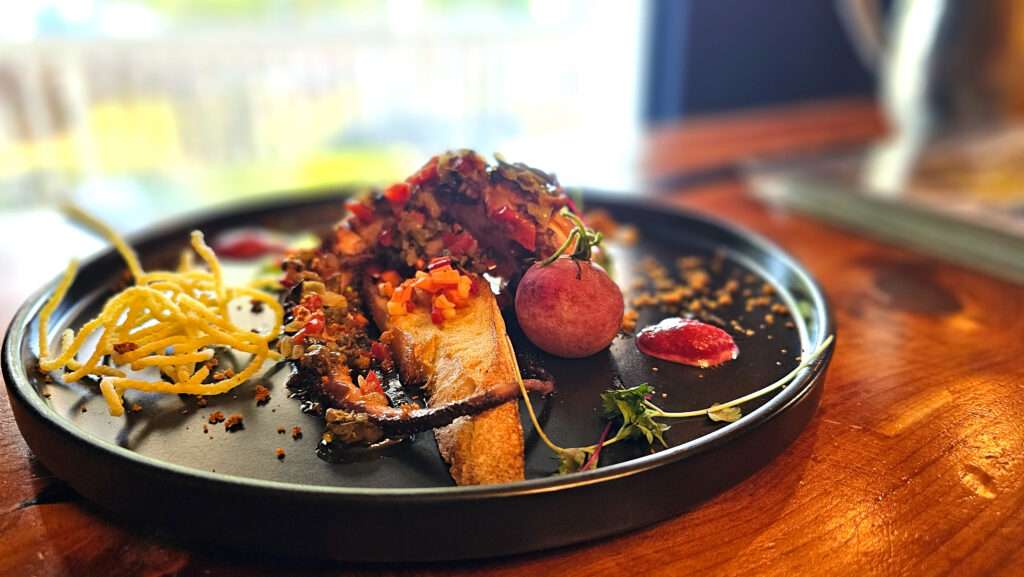 Octopus? Who knew?
C'est la Vie (Octopus)
361 E Main St, Canton, GA 30114
I couldn't possibly talk about seafood and leave out a dish I've never tried before; Octopus. Admittedly, I've never had Octopus on my list of things to try, but I'm glad I did. During a wine dinner I put together with C'est la Vie in May, the owners, Laetitia and Vincent, had me trying all of the dishes as they came out of the kitchen. It's a hard job, but someone had to do it, right? I didn't know what to expect, but I actually like the Octopus. It's not chicken and it's not like calamari, which is what I expected. It's a dense meat that paired well with the sauces they offered it with. It's hard to fully explain it, so I invite you to stop by C'est la Vie and try it for yourself.
Closing words…
If you visit any of the locations mentioned here, be sure to ask for a manager and let them know you were recommended by Taste of 575. It really means a lot and it lets the restaurant know that they matter to our community.
There's so much to discover and explore in our area. Be sure to check out the "Seafood" section of the magazine and find your favorite spot. Try something new. Your tastebuds will thank you.
Read about new locations and updates very soon via our website and mobile app, so check both of those sources regularly.